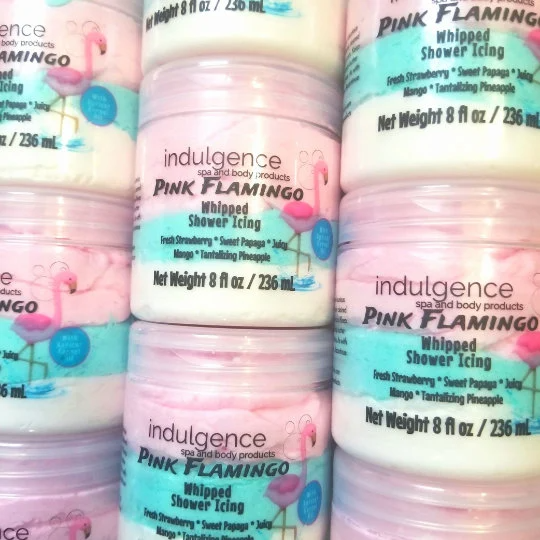 You've seen our Shower Icing on Buzzfeed, Cosmopolitan and a various other outlets. But what in the world is Shower Icing?? Well, we're so glad you asked! It's whipped wonderfulness! It's both cleansing and moisturizing. The lather is fantastic and you don't need a lot! We recommend using with a loofah sponge. Paraben Free, Phthalate Free, Cruelty Free

Paraben Free, Vegan Friendly

Ingredients: Sodium Cocoyl Isethionate, Cocamidopropyl Betaine, Stearic Acid, Vegetable Glycerin, Argan Oil, Apricot Kernel Oil, Water, Phenoxyethanol and Caprylyl Glycol, Fragrance, Colorants

Essential Oils:
Sweet Orange, Lemongrass, Lavender, Lavender and Rose Blend, Peppermint and Cedarwood Blend, Lemongrass and Peppermint Blend


Florals:

Jasmine and Peppermint - Jasmine * Fresh Mint * Sparkling Peach * Cream * Cherry Blossom

Baja Cactus - Flower Blossom * Citrus * Hint of Coconut * Light Musk * Woods

Black Opium - Pink Pepper * Orange Blossom * Coffee * Jasmine * Patchouli

Japanese Cherry Blossom - Japanese Cherry Blossoms * Vanilla * Tonka Bean

Daisy Dreamin'-Daisies * Passion Fruit (BBW Daisy Dreamgirl dupe)

Fruity:

Mango Sorbet - Ripe Mangoes * Juicy Lemons * Red Raspberries

Apple Mango Tango – McIntosh Apples *Pears * Mango * Floral Musks

Rainbow Sherbet - Lime * Pineapple * Orange * Raspberry * Vanilla

Pink Flamingo - Fresh Strawberry * Sweet Papaya * Juicy Mango * Tantalizing Pineapple

Watermelon Lemonade- Juicy Watermelon * Sweet Lemonade

Blue Raspberry Candy- Sweet Sugary Raspberry * Tart Blackberry * Lemon * Sour Green Apple

Cranberry Vanilla Peach - Tart Cranberry * Sweet Peaches *Creamy Vanilla

Unicorn-Boysenberries * Elderberries * Strawberries * Guava * Vanilla

Monkey Farts-Bananas * Strawberries * Kiwi * Bubblegum * Grapefruit * Vanilla

Berry Citrus - Fizzy * Berries * Citrus

Blue Hawaiian-Orange* Cherry * Pineapple * Coconut * Vanilla Rum

Peach Bellini- White Peach Nectar * Bubbly Champagne

Coconut Paradise - Pineapple * Coconut * Vanilla * Sandalwood * Sweet Butter

Honeydew Pear - Honeydew Melon * Cantaloupe * Pears

Unisex:

Waters - Lavender * Jasmine * Oakmoss * Musk * Sandalwood

Cozy Flannels – Bergamot * Citrus * Spicy Florals * Mahogany * Musk

Indian Sandalwood- Warm and Sweet + Woodsy

Blue on Blue-Vetiver * Aqua Marine * Frankincense (Blue de Chanel dupe. A top seller)

Palo Santo -Palo Wood * Warm Amber * Soft Musk

Luxury and Spa:

Cocoa Butter Cashmere – Vanilla Tonka * Warm Coconut * Jasmine Petals * Olive Wood * Sandalwood * Amber * Cocoa Butter

Almond and Sea Salt- Almond Milk * Coconut * Cherrywood * Melon Blossom

White Tea and Ginger - White Tea * Ginger * Florals * Musk

Eucalyptus Spearmint- Eucalyptus * Spearmint * Lavender

Purple Coconut - Coconut Shavings * Lavender * Sweet Cream

That's What I Like-Strawberry * Champagne (VS dupe)

Purple Sugar-Lavender * Gimme Some Sugah (Pink Sugar Dupe)

Romantic Amber - Amber*African Vanilla * Musk*

Cactus and Sea Salt - Watery Cactus * Ozonic Sea Salt

Bonne Nuit - Lavender * Chamomile * Neroli * Lily of the Valley * Musk

Coconut Shea-Coconut * Sandalwood * Shea Butter

Easy Like Sunday Morning- Lavender * Vanilla

Clean:

Drops of Rain- Drops of Rain- Rain Drops * Field of Jasmine * Hints of Grass

Aloe Vera and Clover- Fresh Citrus * Jasmine Petals * Summer Herbs * Sweet Musk

So Fresh and So Clean - Ozone * Greenery * Lavender * Vanilla * Jasmine * Melon * Fresh Air


Gourmand:

Mexican Fried Ice Cream

Coquito - Cinnamon * Nutmeg * Coconut * Vanilla * Sugar

Pistachio Macaron - Sugared Pistachio * Amaretto *Buttery Cookie

Honey Love-Honey*Toffee * White Musk (Honey I Washed the Kid Dupe)

Oatmeal Milk and Honey- Honey * Creamy Vanilla * Almond

Gimme Some Sugah-Cotton Candy *Lemon Drops * Caramel (Pink Sugar Dupe)

Purple Sugar-Lavender * Gimme Some Sugah (Pink Sugar Dupe)

Purple Coconut - Coconut Shavings * Lavender * Sweet Cream

Dreamsicle - Orange Citrus * Creamy Vanilla

Down the Shore - Saltwater * Caramel Popcorn * Cotton Candy * Candy Apples


Earthy:

Hippie Chick - Lavender* Patchouli*Sandalwood*Ylang Ylang*Amber*Violet*Wood*Tonka Bean

Palo Santo -Palo Wood * Warm Amber * Soft Musk

Indian Sandalwood - Amber * Vanilla* Musk Sandalwood


90s Kinda World:

Khadijah - Fresh Breeze * Citrus * Soft Woods * Sweet Amber * Sheer Musk (A Fresh Scent)

Kyle - Mahogany * Cedar Wood & Oak * Light Florals (Earthy, smooth, masculine, gentle. Compare to BBW's Mahogany Teakwood)

Regine -Ylang ylang* Rose petals * French jasmine * Vetiver *Sandalwood (Bougie...enough said. Compare to Chanel No. 5)

Overton - Mandarin * Black Pepper * Cardamom Clove * Vetiver * Leather * Sandalwood

Sinclair - Bubblegum * Pear * Sugared Lemon Drops* Vanilla * Hint of Spice

Maxine - Egyptian Musk * Patchouli * Cinnamon * Orange Blossom * Anise

Christmas:

Peppermint Fluff – Peppermint * Huckleberries *Vanilla *Marshmallow
Twisted Peppermint- Peppermint * Vanilla * Musk
I feel like I can't get an order of anything from Indulgence without also adding in a black raspberry vanilla shower icing for myself. It is the best product and the best scent ever.
Exquisite & Superior!
My girlfriend sent me my first icing as a treat she saw on a list of best self-care finds during quarantine — And boy is this product luxurious in ever way! It's actually shocking to experience not only how this wonderfully shimmery & incredibly moisturizing soap is such a wild bang for your buck — The tiniest amount on your bath poof creates such bananas rich yummy suds — But it's equally special as true aromatherapy from the moment you open the jar. My first scent of gorgeous Palo Santo lasted so long that I only just came shopping to replace it, then learned that it's also has a way lower price point than I had imagined (I'd pay triple if I had to). So I'm stoked by all this, AND seeing oodles of dreamy & complex fragrances on here as well as the Etsy shop, as shower icing is one of my absolute must-haves. 💜 🙌
So many scents to choose and all are perfection!
Ok, I may be obsessed, but this shower icing is the greatest thing to happen to my shower time ever. Every scent I have tried (and I have got quite the collection going now) has been amazing and they all leave my skin radiantly clean, silky smooth, and perfectly moisturized. To date I have the Apple Caramel Crunch, That's What I Like, Japanese Cherry Blossom, Monkey Farts, Amber White, Strawberry Shortcake, Black Raspberry, Apple Mango Tango, Mermaid, Waffle Berry Ice Cream, Blackberry Magnolia, Bubble Gum, Berry Citrus, Honeydew Pear, Dreamsicle, Unicorn, Be My Galentine, Peach Shake, Unicorn Shake, and Unicorn Poptarts- and seriously, not a bad smell to be found.